Happening today at Salina Intermediate- Tuesday, February 7 – 2:00 to 3:30pm.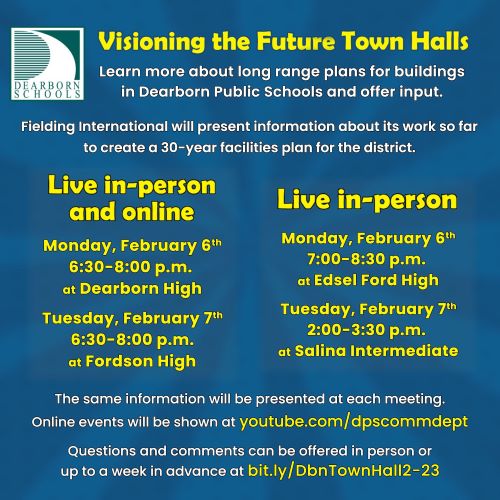 Four town halls are being hosted by Dearborn Public Schools for Fielding International to discuss its work to create a long-range plan for the district's buildings.
Visioning the Future Town Halls will be held on Feb. 6 and 7, 2023. Parents, students, staff, residents and other stakeholders can attend any of the meetings in person to learn more and to ask questions or offer suggestions. Two meetings will also be shown live via the district's YouTube channel. The same information will be presented at all four sessions.
The meeting schedule includes:
Tuesday, Feb. 7 from 2-3:30 p.m. at Salina Intermediate. This meeting is only in-person.
Tuesday, Feb. 7, 6:30-8 p.m. at Fordson High School. This meeting will also be shown online.